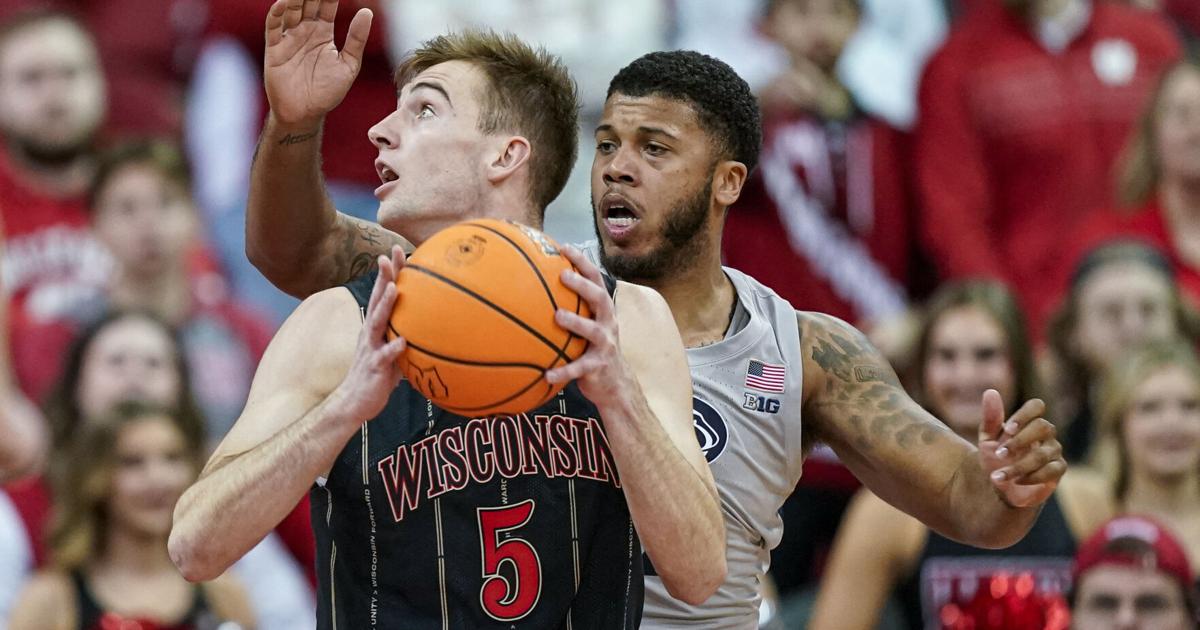 Northwestern's issues with COVID-19 will prevent the University of Wisconsin men's basketball game against the Wildcats from being played this weekend.
The schools announced Thursday night that Saturday's Big Ten Conference game in Evanston, Illinois, won't take place as scheduled because of health and safety protocols with the Wildcats. They'll try to find a date to reschedule but it won't be Sunday.
Northwestern already had one game postponed and rescheduled this week because of COVID-19 in the program. The Wildcats were scheduled to play Iowa on Wednesday but that was wiped out on Tuesday.
The Wildcats had only six available players as of Tuesday, according to Jeff Goodman of Stadium. The Big Ten requires a team to have at least seven scholarship players available for a game.
UW briefly looked for a nonconference opponent to fill the opening for this weekend if the Northwestern game didn't happen. A UW spokesperson said Wednesday that the team ended that pursuit.
The Badgers (12-5, 4-3 Big Ten) had the option of looking for a nonconference game because they lost one of the 11 they had scheduled. The Dec. 23 home game against Grambling State was called off because adverse weather created travel issues.
Now they'll have another extended break between games. They're scheduled to play at Maryland on Wednesday.
Northwestern and Iowa on Thursday announced that the game that was supposed to be played Wednesday has been rescheduled for Jan. 31. That created a stretch of three games in six days for both teams.
#lee-rev-content { margin:0 -5px; } #lee-rev-content h3 { font-family: inherit!important; font-weight: 700!important; border-left: 8px solid var(–lee-blox-link-color); text-indent: 7px; font-size: 24px!important; line-height: 24px; } #lee-rev-content .rc-provider { font-family: inherit!important; } #lee-rev-content h4 { line-height: 24px!important; font-family: "serif-ds",Times,"Times New Roman",serif!important; margin-top: 10px!important; } @media (max-width: 991px) { #lee-rev-content h3 { font-size: 18px!important; line-height: 18px; } } #pu-email-form-breaking-email-article { clear: both; background-color: #fff; color: #222; background-position: bottom; background-repeat: no-repeat; padding: 15px 0 20px; margin-bottom: 40px; border-top: 4px solid rgba(0,0,0,.8); border-bottom: 1px solid rgba(0,0,0,.2); display: none; } #pu-email-form-breaking-email-article, #pu-email-form-breaking-email-article p { font-family: -apple-system, BlinkMacSystemFont, "Segoe UI", Helvetica, Arial, sans-serif, "Apple Color Emoji", "Segoe UI Emoji", "Segoe UI Symbol"; } #pu-email-form-breaking-email-article h2 { font-size: 24px; margin: 15px 0 5px 0; font-family: "serif-ds", Times, "Times New Roman", serif; } #pu-email-form-breaking-email-article .lead { margin-bottom: 5px; } #pu-email-form-breaking-email-article .email-desc { font-size: 16px; line-height: 20px; margin-bottom: 5px; opacity: 0.7; } #pu-email-form-breaking-email-article form { padding: 10px 30px 5px 30px; } #pu-email-form-breaking-email-article .disclaimer { opacity: 0.5; margin-bottom: 0; line-height: 100%; } #pu-email-form-breaking-email-article .disclaimer a { color: #222; text-decoration: underline; } #pu-email-form-breaking-email-article .email-hammer { border-bottom: 3px solid #222; opacity: .5; display: inline-block; padding: 0 10px 5px 10px; margin-bottom: -5px; font-size: 16px; } @media (max-width: 991px) { #pu-email-form-breaking-email-article form { padding: 10px 0 5px 0; } }