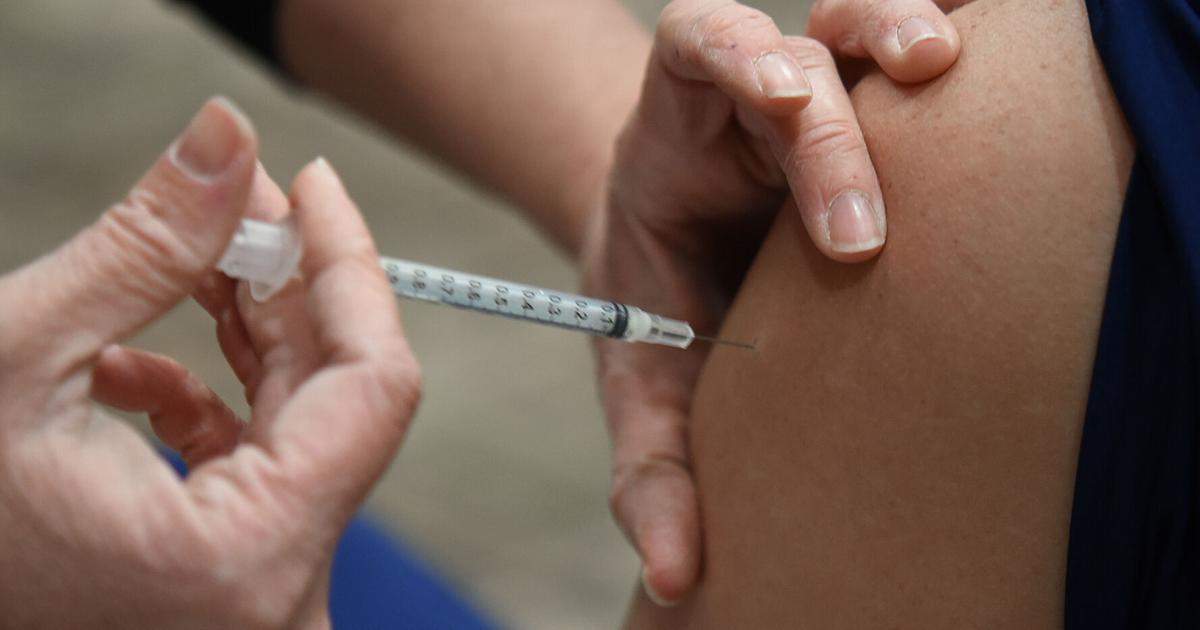 The new COVID-19 case count in Forsyth County dropped to a five-week low last week, while there were no new confirmed related deaths.
According to the N.C. Department of Health and Human Services' latest COVID-19 dashboard report, there were 620 new confirmed COVID-19 cases for the week that ended Jan. 14.
About 15.5% were listed as reinfections by DHHS.
DHHS cautions its weekly totals are subject to revision, including factoring in cases and deaths that occurred weeks or months ago, but were only recently confirmed as related to COVID-19.
Forsyth health director Joshua Swift and Novant Health Inc. infectious diseases expert Dr. David Priest have stressed that the DHHS weekly case totals include only laboratory confirmed cases, and don't include most people who determine they are positive with an at-home test.
Still, it's the lowest total since 579 for the week that ended Dec. 10, and down from 1,108 for the week that ended Dec. 31.
The county has had 122,438 confirmed cases, along with 947 COVID-related deaths since the pandemic began in mid-March 2020.
"People are taking fewer precautions against the virus, and there's waning immunity from natural infection and vaccination," Priest said.
Forsyth remained in the high category for COVID-19 community spread last week even though there were modest improvements in the three key metrics. Guilford County was moved from high to medium.
The CDC recommends that people who live in counties with the highest levels wear masks in indoor public spaces, as well as on public transportation, regardless of vaccination status.
Long-term care centers
The sizable uptick in Forsyth's new COVID-19 cases is being demonstrated within several long-term care facilities.
The number of such facilities with current COVID-19 outbreaks was unchanged from the second consecutive week at 18 in the latest dashboard update.
The outbreak at Forsyth County Detention Center involves 24 inmates, up five from the previous report.
The number of infected residents linked to current outbreaks is at 199, up 30 from the previous report, while infected staff members are at 103, up 18.
At least 10 long-term care residents have died since early April from a COVID-related illness.
DHHS spokeswoman Bailey Pennington Allison has said the weekly outbreak report "is a combination of current and past outbreaks."
"It's also important to remember that the number of cases associated with an ongoing outbreak are the cumulative total for that outbreak, not the number of people currently positive for COVID-19."
An outbreak is considered over if there is no evidence of continued transmission within the facility, according to DHHS. If new positive COVID-19 cases occur after an outbreak is considered as ended, it is listed as a separate outbreak.
Current outbreaks of at least 20 COVID-19 cases in Forsyth long-term care centers include:
* Kerner Ridge Assisted Living, with 29 residents (up two) with one death, and 12 staff (up four).
* Trinity Glen, with 17 staff (up three) and 16 residents (unchanged).
* Mill Creek Center for Nursing and Rehabilitation, with 29 residents (up one) and two staff (unchanged)
* Homestead Hills Assisted Living, with 20 residents (up one) and three staff (unchanged);
* Trinity Elms, with 17 staff (up one) and six residents (unchanged).
* Clemmons Village II, 20 residents and one staff (both unchanged);
* Homestead Hills, with 13 residents (up two) and eight staff (unchanged);
* Brookridge Retirement Community, with 11 residents (up two) and nine staff (up three);
* The Oaks, newly listed at 17 residents and three staff.
COVID-19 statewide
DHHS reported the statewide count for last week was 14,290, compared with a revised 21,405 in the previous report.
Of those North Carolinians with a positive test result, 3,050, or 21.3%, were considered re-infected.
North Carolina's total confirmed case count since the onset of the pandemic is just under 3.4 million.
There were 41 COVID-related deaths reported statewide last week, along with another 18 confirmed from previous weeks, for a total of 27,967.
Last week, the number of COVID-19 patients admitted to hospitals in North Carolina was at 1,363, compared with 1,662 for the week that ended Jan. 7.
COVID-19 hospitalizations statewide averaged 1,620 last week, up from 1,298 for the week that ended Dec. 31. It was the highest weekly hospitalization count since 2,003 for the week that ended Feb. 6, 2022.
Hospitals in the 17-county Triad region averaged 395 COVID-19 patients, up from 310 for the week that ended Dec. 31. It is the highest weekly count since 409 for the week that ended Feb. 26.
The current dominant omicron subvariants have proven to be more contagious, contributing to the surge in hospitalizations. DHHS lists 11 active subvariants.
The BQ 1.1 subvariant made up 46.3% of new cases from Dec. 25 to Jan. 7, along with 13.4% the BQ.1 subvariant, 12.1% the BA.5 subvariant and 11.7% the XBB 1.5 subvariant.
Priest and Dr. Christopher Ohl, an infectious diseases expert with Atrium Health Wake Forest Baptist, say the full arrival of the XBB and XBB 1.5 subvariants is likely in the next few weeks. Those subvariants already have surged in the mid-Atlantic and Northeast.
'As (respiratory) viruses evolve, they often become more infectious and less severe in the disease they cause," Priest said.
#lee-rev-content { margin:0 -5px; } #lee-rev-content h3 { font-family: inherit!important; font-weight: 700!important; border-left: 8px solid var(–lee-blox-link-color); text-indent: 7px; font-size: 24px!important; line-height: 24px; } #lee-rev-content .rc-provider { font-family: inherit!important; } #lee-rev-content h4 { line-height: 24px!important; font-family: "serif-ds",Times,"Times New Roman",serif!important; margin-top: 10px!important; } @media (max-width: 991px) { #lee-rev-content h3 { font-size: 18px!important; line-height: 18px; } } #pu-email-form-daily-email-article { clear: both; background-color: #fff; color: #222; background-position: bottom; background-repeat: no-repeat; padding: 15px 0 20px; margin-bottom: 40px; border-top: 4px solid rgba(0,0,0,.8); border-bottom: 1px solid rgba(0,0,0,.2); display: none; } #pu-email-form-daily-email-article, #pu-email-form-daily-email-article p { font-family: -apple-system, BlinkMacSystemFont, "Segoe UI", Helvetica, Arial, sans-serif, "Apple Color Emoji", "Segoe UI Emoji", "Segoe UI Symbol"; } #pu-email-form-daily-email-article h2 { font-size: 24px; margin: 15px 0 5px 0; font-family: "serif-ds", Times, "Times New Roman", serif; } #pu-email-form-daily-email-article .lead { margin-bottom: 5px; } #pu-email-form-daily-email-article .email-desc { font-size: 16px; line-height: 20px; margin-bottom: 5px; opacity: 0.7; } #pu-email-form-daily-email-article form { padding: 10px 30px 5px 30px; } #pu-email-form-daily-email-article .disclaimer { opacity: 0.5; margin-bottom: 0; line-height: 100%; } #pu-email-form-daily-email-article .disclaimer a { color: #222; text-decoration: underline; } #pu-email-form-daily-email-article .email-hammer { border-bottom: 3px solid #222; opacity: .5; display: inline-block; padding: 0 10px 5px 10px; margin-bottom: -5px; font-size: 16px; } @media (max-width: 991px) { #pu-email-form-daily-email-article form { padding: 10px 0 5px 0; } }