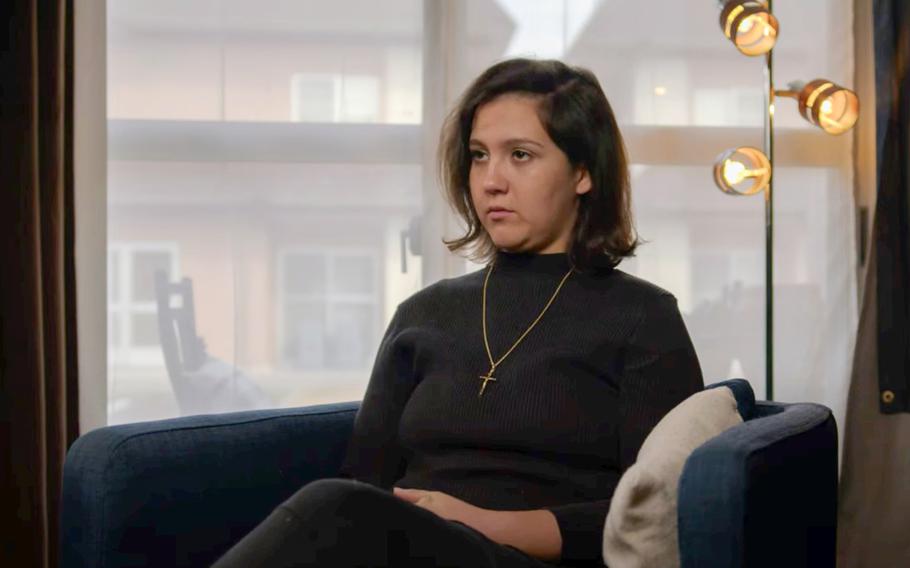 Stars and Stripes is making stories on the coronavirus pandemic available free of charge. See more stories here. Sign up for our coronavirus newsletter here. Please support our journalism with a subscription.
MARINE CORPS AIR STATION IWAKUNI, Japan — A Marine lance corporal in Japan who refused the COVID-19 vaccine has for a third time failed to board a U.S.-bound flight, this time to begin an administrative discharge based on new allegations, a Marine Corps spokesman said.
Lance Cpl. Catherine Arnett, 24, of Fort Worth, Texas, refused to board the Patriot Express on Saturday at MCAS Iwakuni, 1st Marine Aircraft Wing spokesman Maj. Rob Martins told Stars and Stripes by email. The contracted air service shuttles military passengers between the U.S. and its overseas bases.
Wing commander Maj. Gen. Eric Austin ordered Arnett discharged on Jan. 9 based on allegations that she committed forgery and made false official statements, violations of the Uniform Code of Military Justice articles 105 and 107, respectively, Martins said. The case against Arnett is under review, he added.
"There have not been any formal charges preferred at this time," Martins said. "As part of the military justice application of due process, military prosecutors will review the evidence available and [recommend] charges to the convening authority."
Martins did not detail the alleged offenses, which he described as serious.
"Lance Cpl. Arnett is currently confined at the Camp Hansen brig as part of the pre-trial confinement process," he confirmed on Tuesday.
In September, the Marine Corps dismissed two counts against Arnett of missing troop movements and one of disobeying a direct order after a federal judge in August temporarily barred the Corps from punishing or discharging Marines who refused the vaccine on religious grounds.
In that case, she twice refused to board flights in May to the U.S. to be discharged after refusing the vaccine. Arnett has said she regards the August 2021 vaccine mandate, now repealed, as an unlawful order. The Marines never charged Arnett with refusing the COVID-19 vaccine.
Arnett has said she refused the COVID-19 vaccines because they are tested or produced using stem cell lines that descend from fetuses aborted in the 1970s and '80s. She said the Marine Corps denied her requests as a Catholic for a religious exemption.
Arnett on her Facebook page Friday said she expected to be arrested.
In a YouTube video posted Saturday by Echo 7 Sierra, an anonymous user who claims to be an active-duty Marine, Arnett said she was still being forced to board the Patriot Express for refusing the vaccine. The video was recorded Jan. 17, according to accompanying information.
"Despite all my efforts, I will be seeing myself out from this base by force for still not receiving the vaccine," she said in the video.
Arnett in the video did not address the new allegations by the Marine Corps.
In December, President Joe Biden signed the fiscal 2023 National Defense Authorization Act, which rescinded Defense Secretary Lloyd Austin's order requiring troops to receive the COVID-19 vaccine or face punishment, including dismissal from the military.