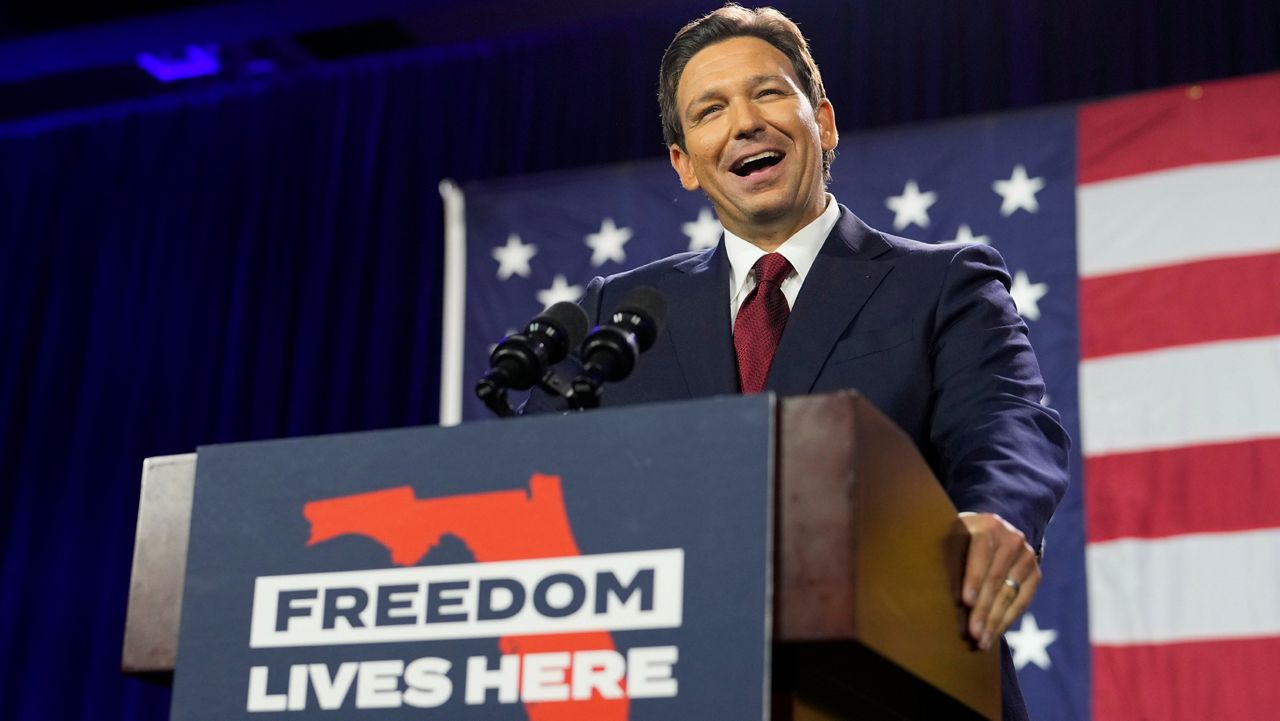 TALLAHASSEE, Fla. — Gov. Ron DeSantis announced plans Tuesday to permanently eliminate COVID-19 mandates in Florida during the upcoming legislative session.
The pending proposal will permanently ban mask mandates and COVID-19 vaccination requirements under state law. It also plans to ban vaccine passports and provide free speech protections for healthcare workers.
Details are few, as no legislation is yet filed. DeSantis, however, is championing the move as an effort to defend the livelihoods of Floridians.
"We look forward to making the protections we have enacted for Floridians against the biomedical security state permanent and want to ensure that no Floridians face discrimination based on vax status," DeSantis said.
The new bill builds upon legislation the governor signed back in 2021, which temporarily banned mask and vaccine mandates in Florida through June 2023.
The new bill will make those bans permanent and further include free speech protections for healthcare workers.
Those protections, DeSantis says, will defend the right of medical staff to "disagree with the preferred narrative of the medical community."
Also, he and others contend it will uphold the religious freedoms of medical workers who oppose COVID-19 vaccination.
"All medical professionals should be encouraged to engage in scientific discourse without fearing for their livelihoods or their careers," said Florida General Joseph Ladapo at the Panama City press conference alongside DeSantis.
While some revel in the Governor's handling of the virus, other including House Minority Leader Fentrice Driskell have concerns.
Speaking to reporters, Driskell on Tuesday rebuked DeSantis' plan and accused him of misunderstanding the needs of Floridians.
They, she contends, are better served with legislation addressing Florida's medical staff shortages and housing affordability crisis, among other issues. A Florida Hospital Association report forecasts a shortage of almost 60,000 nurses by 2035.
"This is more grievance-mongering… by Gov. Ron DeSantis," said Driskell. "Florida has been hamstrung the whole pandemic by a political campaign response to a public health crisis."
Driskell also accused DeSantis of using wedge issues to further his own political ambitions. She lamented DeSantis' frequent attacks against President Joe Biden and Democratic-led states like California.
A young Republican and Fox News fixture, DeSantis is widely considered a 2024 Republican presidential primary contender. Former President Donald Trump, also a front runner, vowed Monday to "handle" a potential challenge by DeSantis should he choose to run.
"There's a very real difference between campaigning and governing," said Driskell. "And this governor has not seemed to learn the distinction between the two."
The 2023 Legislative Session begins in March. Republicans in Florida enjoy a supermajority in both chambers, meaning they can pass legislation without the need of Democratic support.