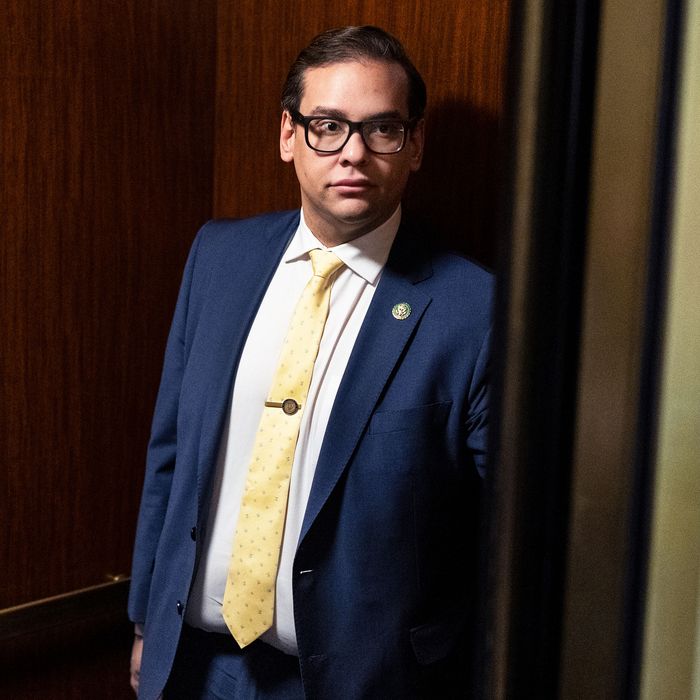 Photo: Tom Williams/CQ-Roll Call, Inc via Getty Images
After winning his race to represent New York's Third District in Congress, George Santos has been accused of lying about … practically everything in his past from his schools to his workplaces and even whether his mother died as a result of 9/11. But Semafor reports that Santos might've told the truth about one striking claim: that he had one of the earliest cases of COVID-19 in New York City.
Santos has long maintained he contracted the virus in March 2020, when the city officially declared its first case. That same month, he told a conservative podcast he had likely caught the virus after attending CPAC in February in Maryland and, once he was back home in Queens, developed symptoms and was taken by ambulance to Elmhurst Hospital, according to the New York Post. In that 2020 interview, he also claimed that he was isolated in a "plastic bubble" because of a lack of rooms and that his health was particularly at risk as a result of a brain tumor he had had. (He hasn't mentioned his cancer battle much since.)
But the story and timeline of his illness frequently changed. Dan Diamond, a Washington Post reporter, outlined the shifts in a Twitter thread, noting that Santos changed the date of when he tested positive several times between March 7 and 11. In a 2021 tweet, Santos claimed he was bedridden "for 10 straight days" from March 5 to 15. The future U.S. representative even varied the severity of his case at times, initially downplaying it but later calling his illness "the worst two weeks of my life."
This week, Semafor spoke to Santos about his case. "On the 7th I felt sick and went to get tested," he said. "They refused me because I didn't have enough evidence it could be COVID. On the 11th I was back there via ambulance and was placed in isolation."
Santos shared with Semafor images that he said supported his story, including photos of him on a hospital gurney and a screenshot of a positive COVID lab result from Labcorp. And the photos' metadata place the images on March 11, 2020, which lines up with Santos's story. He declined, however, to discuss his prior claim of surviving a brain tumor.