This daily round-up brings you a selection of the latest news and updates on the COVID-19 coronavirus pandemic, as well as tips and tools to help you stay informed and protected.
Top stories: Latvia cancels routine operations to free up beds; US donates additional 17 million vaccines to Africa; Palau hits 99% vaccinated.
1. How COVID-19 is affecting the globe

Confirmed cases of COVID-19 have passed 239.6 million globally, according to Johns Hopkins University. The number of confirmed deaths stands at more than 4.88 million. More than 6.6 billion vaccination doses have been administered globally, according to Our World in Data.
Sydney will allow in fully vaccinated travellers from overseas from 1 November – without needing to quarantine. The rule change would initially only benefit citizens.
France has donated more than half a million doses of the AstraZeneca COVID-19 vaccine to Nigeria through the COVAX vaccine-sharing facility.
Latvia has cancelled most planned hospital operations from Monday to free up beds and staff as COVID-19 cases increase.
UK Health Minister Sajid Javid said yesterday that the COVID-19 situation is 'quite stable at this point'. 42,776 new COVID-19 cases were reported on Wednesday – the highest figure since mid-July.
A panel of expert advisors to the US Food and Drug Administration has voted to recommend booster shots of the Moderna COVID-19 vaccine for certain groups.
Hungary has reported 1,141 new confirmed daily COVID-19 cases, the first time the number has risen above 1,000 during the pandemic's fourth wave in the country.
2. US to donate 17 million vaccine doses to African Union

US President Joe Biden told the visiting Kenyan President Uhuru Kenyatta yesterday that the United States is set to make a one-time donation of more than 17 million doses of the Johnson & Johnson COVID-19 vaccine to the African Union.
Biden said the 17 million doses will be in addition to 50 million the United States has already donated to the African Union.
The African Union, which has 55 member states and a combined population of over 1.3 billion people, has accused vaccine manufacturers of not giving its members fair access. Of 5.7 billion doses of coronavirus vaccines administered around the world by mid-September, only 2% had been in Africa.
The 17 million doses of J&J are available immediately and will be delivered to the African Union in the coming weeks, the White House said.
Each of our Top 50 social enterprise last mile responders and multi-stakeholder initiatives is working across four priority areas of need: Prevention and protection; COVID-19 treatment and relief; inclusive vaccine access; and securing livelihoods. The list was curated jointly with regional hosts Catalyst 2030's NASE and Aavishkaar Group. Their profiles can be found on www.wef.ch/lastmiletop50india.
Top Last Mile Partnership Initiatives to collaborate with: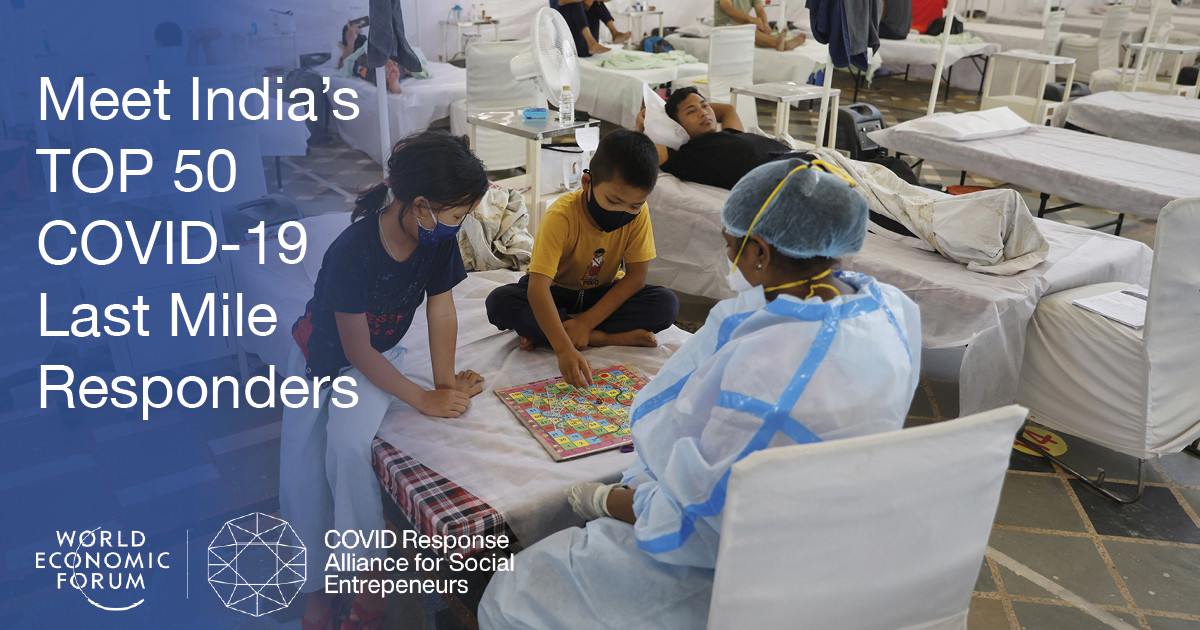 3. Palau hits 99% vaccination rate

99% of the country's population over 12 has had both shots of a vaccine against COVID-19, the International Federation of Red Cross (IFRC) said, citing government figures which also show that this amounts to 16,152 people.
That puts Palau, an archipelago of 500 islands in the western Pacific Ocean, in the "top spot", the IFRC said in a statement. Other nations in the region continue to lag behind though. Less than 10% of the Solomon Islands (population 650,000) and Kiribati (population 119,000) are vaccinated, the IFRC said.