When one by one, the friends of a young woman living in Beijing began disappearing — detained by the police after attending a vigil together weeks earlier — she felt sure that her time was nearing.
"As I record this video, four of my friends have already been taken away," the woman, age 26, said, speaking clearly into the camera in a video recording from late December obtained by CNN.
"I entrusted some friends of mine with making this video public after my disappearance. In other words, when you see this video, I have been taken away by the police for a while."
The woman — a recent graduate who is an editor at a publishing house — is among eight people, mainly young, female professionals in the same extended social circle, that CNN has learned have been quietly detained by authorities in the weeks following a peaceful protest in the Chinese capital on November 27.
That protest was one of many that broke out in major cities across the country in an unprecedented showing of discontent with China's now-dismantled zero-Covid controls.
<div data-uri="archive.cms.cnn.com/_components/video-resource/instances/h_abb8c9b284a651fdbf7550ba80e369fa-h_e27d784d818beb9e20b0e824f3871b76@published" data-component-name="video-resource" data-editable="settings" class="video-resource" data-video-id="world/2022/11/28/selina-wang-china-protest-walk-and-talk-vpx-ovn-intl.cnn" data-live data-analytics-aggregate-events="true" data-custom-experience data-asset-type data-medium-env="prod" data-autostart="false" data-chromeless="false" data-show-ads="true" data-featured-video="true" data-headline="CNN reporter at site of protest against China's zero-Covid policy" data-description="CNN's Selina Wang reports from the streets of Beijing where protesters are demonstrating against Xi Jinping's zero-Covid policy." data-duration="01:16" data-source-html=" – Source: CNN " data-fave-thumbnails="{"big":{"uri":"https://media.cnn.com/api/v1/images/stellar/prod/221127211902-selina-wang-november-27-2022-screenrab.jpg?c=16×9&q=h_540,w_960,c_fill"},"small":{"uri":"https://media.cnn.com/api/v1/images/stellar/prod/221127211902-selina-wang-november-27-2022-screenrab.jpg?c=16×9&q=h_540,w_960,c_fill"}}" data-vr-video data-show-name data-show-url data-check-event-based-preview data-network-id data-details>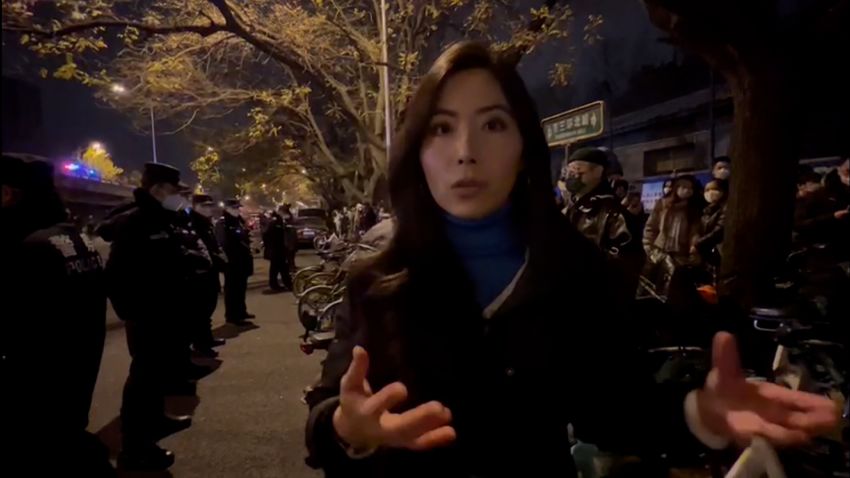 CNN reporter at site of protest against China's zero-Covid policy