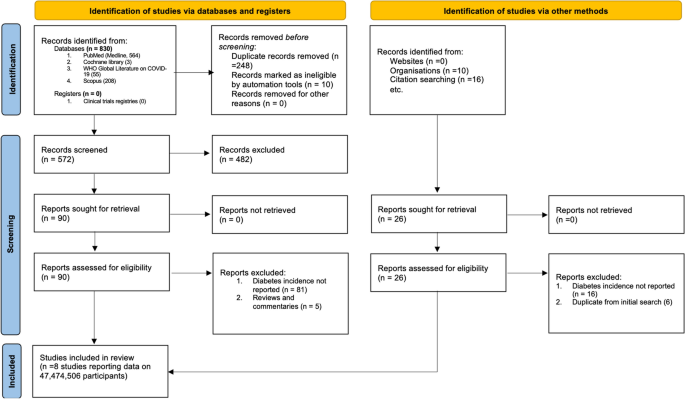 Dong, E., Du, H. & Gardner, L. An interactive web-based dashboard to track COVID-19 in real time. Lancet. Infect. Dis 20(5), 533–534 (2020).
Centers for Disease Control and Prevention. Long COVID or Post-COVID Conditions. https://www.cdc.gov/coronavirus/2019-ncov/long-term-effects/index.html. Accessed 25 June 2022.
Barrett, C. E. et al. Risk for newly diagnosed diabetes >30 days after SARS-CoV-2 infection among persons aged <18 years: United States, March 1, 2020-June 28, 2021. MMWR Morb. Mortal. Wkly. Rep. 71(2), 59–65 (2022).
Khunti, K. et al. COVID-19, hyperglycemia, and new-onset diabetes. Diabetes Care 44(12), 2645–2655 (2021).
Rathmann, W., Kuss, O. & Kostev, K. Incidence of newly diagnosed diabetes after Covid-19. Diabetologia 65(6), 949–954 (2022).
Rubino, F. et al. New-onset diabetes in covid-19. N. Engl. J. Med. 383(8), 789–790 (2020).
Singh, A. K. & Khunti, K. COVID-19 and diabetes. Annu. Rev. Med. 73, 129–147 (2022).
Steenblock, C. et al. COVID-19 and metabolic disease: Mechanisms and clinical management. Lancet Diabetes Endocrinol. 9(11), 786–798 (2021).
Xie, Y. & Al-Aly, Z. Risks and burdens of incident diabetes in long COVID: A cohort study. Lancet Diabetes Endocrinol. 10(5), 311–321 (2022).
Sathish, T., Kapoor, N., Cao, Y., Tapp, R. J. & Zimmet, P. Proportion of newly diagnosed diabetes in COVID-19 patients: A systematic review and meta-analysis. Diabetes Obes. Metab. 23(3), 870–874 (2021).
Page, M. J. et al. The PRISMA 2020 statement: An updated guideline for reporting systematic reviews. BMJ 372, n71 (2021).
Methley, A. M., Campbell, S., Chew-Graham, C., McNally, R. & Cheraghi-Sohi, S. PICO, PICOS and SPIDER: A comparison study of specificity and sensitivity in three search tools for qualitative systematic reviews. BMC Health Serv. Res. 14(1), 1–10 (2014).
Wells, G. A. et al. The Newcastle-Ottawa Scale (NOS) for Assessing the Quality of Nonrandomised Studies in Meta-Analyses (Oxford University Press, 2000).
Chang, B.-H. & Hoaglin, D. C. Meta-analysis of odds ratios: Current good practices. Med. Care 55(4), 328 (2017).
DerSimonian, R. & Kacker, R. Random-effects model for meta-analysis of clinical trials: An update. Contemp. Clin. Trials 28(2), 105–114 (2007).
Higgins, J. P., Thompson, S. G., Deeks, J. J. & Altman, D. G. Measuring inconsistency in meta-analyses. BMJ 327(7414), 557–560 (2003).
Egger, M., Smith, G. D., Schneider, M. & Minder, C. Bias in meta-analysis detected by a simple, graphical test. BMJ 315(7109), 629–634 (1997).
Begg, C. B. & Mazumdar, M. Operating characteristics of a rank correlation test for publication bias. Biometrics 50, 1088–1101 (1994).
Wander, P. L. et al. The incidence of diabetes among 2,777,768 veterans with and without recent SARS-CoV-2 infection. Diabetes Care 45(4), 782–788 (2022).
Daugherty, S. E. et al. Risk of clinical sequelae after the acute phase of SARS-CoV-2 infection: Retrospective cohort study. BMJ 373, n1098 (2021).
McKeigue, P. M. et al. Relation of incident type 1 diabetes to recent COVID-19 infection: Cohort study using e-health record linkage in Scotland. Diabetes Care https://doi.org/10.2337/dc22-0385 (2022).
Qeadan, F. et al. The associations between COVID-19 diagnosis, type 1 diabetes, and the risk of diabetic ketoacidosis: A nationwide cohort from the US using the Cerner Real-World Data. PLoS ONE 17(4), e0266809 (2022).
Kendall, E. K., Olaker, V. R., Kaelber, D. C., Xu, R. & Davis, P. B. Association of SARS-CoV-2 infection with new-onset type 1 diabetes among pediatric patients from 2020 to 2021. JAMA Netw. Open 5(9), e2233014–e2233014 (2022).
Duval, S. & Tweedie, R. Trim and fill: Aa simple funnel-plot–based method of testing and adjusting for publication bias in meta-analysis. Biometrics 56(2), 455–463 (2000).
Viechtbauer, W. & Cheung, M. W. L. Outlier and influence diagnostics for meta-analysis. Res. Synth. Methods 1(2), 112–125 (2010).
Sterne, J. A., Becker, B. J. & Egger, M. The funnel plot. in Publication Bias in Meta-Analysis: Prevention, Assessment and Adjustments, 75–98 (2005)
Patsopoulos, N. A., Evangelou, E. & Ioannidis, J. P. Sensitivity of between-study heterogeneity in meta-analysis: Proposed metrics and empirical evaluation. Int. J. Epidemiol. 37(5), 1148–1157 (2008).
Wu, C.-T. et al. SARS-CoV-2 infects human pancreatic & #x3b2; cells and elicits & cell impairment. Cell Metab. 33(8), 1565-1576.e1565 (2021).
Shaharuddin, S. H. et al. Deleterious effects of SARS-CoV-2 infection on human pancreatic cells. Front. Cell Infect. Microbiol. 11, 678482–678482 (2021).
Suresh, V. et al. Tissue distribution of ACE2 protein in syrian golden hamster (Mesocricetus auratus) and its possible implications in SARS-CoV-2 related studies. Front. Pharmacol. 11, 330 (2021).
Müller, J. A. et al. SARS-CoV-2 infects and replicates in cells of the human endocrine and exocrine pancreas. Nat. Metab. 3(2), 149–165 (2021).
Wu, C.-T. et al. SARS-CoV-2 infects human pancreatic β cells and elicits β cell impairment. Cell Metab. 33(8), 1565-1576.e1565 (2021).
Hyöty, H. & Taylor, K. W. The role of viruses in human diabetes. Diabetologia 45(10), 1353–1361 (2002).
Pak, C. Y., Eun, H. M., McArthur, R. G. & Yoon, J. W. Association of cytomegalovirus infection with autoimmune type 1 diabetes. Lancet 2(8601), 1–4 (1988).
Honeyman, M. C., Stone, N. L. & Harrison, L. C. T-cell epitopes in type 1 diabetes autoantigen tyrosine phosphatase IA-2: Potential for mimicry with rotavirus and other environmental agents. Mol. Med. 4(4), 231–239 (1998).
Wang, C. S., Wang, S. T., Yao, W. J., Chang, T. T. & Chou, P. Hepatitis C virus infection and the development of type 2 diabetes in a community-based longitudinal study. Am. J. Epidemiol. 166(2), 196–203 (2007).