We're already more than halfway through winter – which runs from December through February – and understandably, people in the western US are ready for it to end after being inundated with rain and chilly weather for weeks. Meanwhile, some people on the other side of the country feel like the season has yet to begin as several major cities in the Northeast still await their first snow day. Here's what else you need to know to Get Up to Speed and On with Your Day.
(You can get "5 Things You Need to Know Today" delivered to your inbox daily. Sign up here.)
1. Mass shootings

At least seven people were killed Monday in shootings at two locations in Half Moon Bay, California, officials said. These shootings came just two days after at least 11 people were killed in a mass shooting at a dance studio in Monterey Park, California. Police say a 67-year-old suspect is in custody after opening fire Monday at a mushroom farm in Half Moon Bay and again near a trucking facility, approximately two miles from the farm. As investigators work to determine a motive, the community remains in shock and disbelief. "We have not even had time to grieve for those lost in the terrible shooting in Monterey Park. Gun violence must stop," said Dave Pine, president of the San Mateo County Board of Supervisors. Also on Monday, one person was killed and seven others were injured in a shooting in Oakland, California – the third mass shooting in the state within three days.
2. Covid-19

More than $60 billion may have been paid out in fraudulent unemployment insurance benefits during the Covid-19 pandemic, according to a new report released Monday by the US Government Accountability Office. The House Oversight Committee said it will launch an investigation into "the rampant waste of taxpayer dollars in Covid relief programs" starting on February 1. Separately, the FDA wants to simplify the Covid-19 vaccine process to look more like what happens with the flu vaccine. New FDA documents explain most people may need only one dose of the latest Covid-19 shot to restore protection, regardless of how many shots they've gotten before. The agency's independent vaccine advisers are scheduled to meet later this week to discuss and vote on the future of Covid-19 vaccine regimens.
3. Oath Keepers

Three members of the Oath Keepers and a fourth person associated with the far-right militia group were convicted of seditious conspiracy by a Washington, DC, jury on Monday for their role in the January 6, 2021, insurrection. The four men were accused of plotting to stop the certification of Joe Biden's 2020 electoral college victory, a conspiracy that culminated in the attack on the US Capitol. This type of rare charge could carry a maximum punishment of 20 years in prison. All four defendants will be placed under house arrest until they are sentenced, a judge ordered. Additionally, an Arkansas man who was infamously photographed putting his feet on a desk inside then-House Speaker Nancy Pelosi's office during the Capitol insurrection was found guilty on eight counts by a Washington, DC, jury Monday. He similarly faces up to 20 years in prison for the top charge of obstructing an official proceeding.
4. Ukraine

For nearly six months, Ukrainian forces have been going toe-to-toe with the Russians over roughly 36 miles of territory in the eastern city of Bakhmut. However, as Ukraine pleads for more advanced weaponry and tanks, US and Western officials are urging Ukrainian officials to shift focus from that brutal fight and prioritize instead a potential offensive in the south, using a different style of fighting that takes advantage of the billions of dollars in new military hardware recently committed by Western allies. The US specifically wants Ukraine to focus on a style of mechanized maneuver warfare that uses rapid, unanticipated movements against Russia, sources familiar with their discussions said.
<div data-uri="archive.cms.cnn.com/_components/video-resource/instances/h_fd90d63eb732402aa761dfd237f8918e-h_7e138af0731b853be8858408e2f24bc4@published" data-component-name="video-resource" data-editable="settings" class="video-resource" data-video-id="world/2023/01/24/ukraine-foreign-medics-help-in-bakhmut-wedeman-intl-vpx.cnn" data-live data-analytics-aggregate-events="true" data-custom-experience data-asset-type data-medium-env="prod" data-autostart="false" data-chromeless="false" data-show-ads="true" data-featured-video="true" data-headline="Medics from around the world help Ukraine in Bakhmut" data-description="CNN's Ben Wedeman speaks with medical workers from around the world who have traveled to Ukraine to help wherever they are needed." data-duration="02:34" data-source-html=" – Source: CNN " data-fave-thumbnails="{"big":{"uri":"https://media.cnn.com/api/v1/images/stellar/prod/230124010728-ben-wedeman-ukraine-foreign-medics-bakhmut-1.jpg?c=16×9&q=h_540,w_960,c_fill"},"small":{"uri":"https://media.cnn.com/api/v1/images/stellar/prod/230124010728-ben-wedeman-ukraine-foreign-medics-bakhmut-1.jpg?c=16×9&q=h_540,w_960,c_fill"}}" data-vr-video data-show-name data-show-url data-check-event-based-preview data-network-id data-details>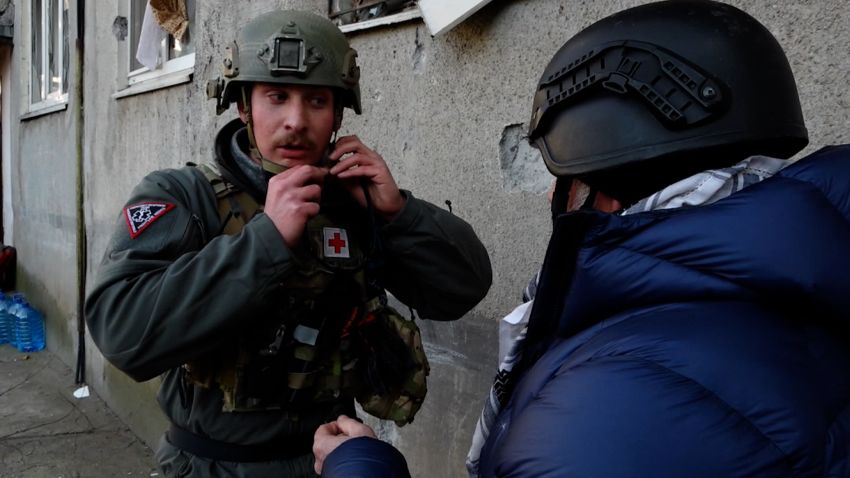 Medics from around the world help Ukraine in Bakhmut